Digging Madder Roots
First off, thanks to all of my fiber friends who are spreading the word about my CSA, and to those friends who offered plants, helping me keep my start-up costs down.  Yesterday afternoon, Claudia and I visited Jan (all three of us are Foothill Fiber Guild members), who had offered to let me dig up all of her madder roots.  Jan has become completely enamored of building a collection of replicable  colors to use in her work, and decided she was not going to use the madder.  Turns out she had a full 4-x10 foot raised bed of plants put in back in 2003,   and it took Claudia and I a few hours to dig and sift out the roots.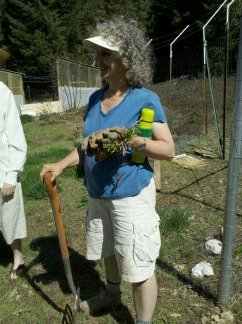 Here's Claudia, holding a handful of madder roots that already had started leafing out.  Most of these roots have been in the ground a long time, and the amazing thing we noticed while digging was that they are a bright orange closest to the new growth, while a deep, beet red through the rest of the root.
The bed contained lots and lots, filling this large box.  Jan told us that she didn't routinely water them during the summer, though her bed was nicely composted, complete with loose dirt and earthworms.  Here at our mid-mountain elevations, the soil is normally a heavy, red clay, but lucky for us the digging was much easier than expected.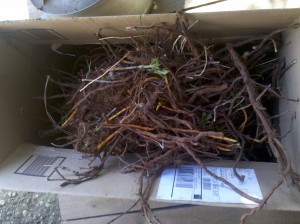 Jan and her hubby Dan were such perfect and congenial hosts!  We loved Jan's delightful studio-cottage, her dye projects and other fiber pursuits, and had great, neighborly discussions about storms, winter damage, fire danger this coming year, and the plagues of getting adequate Internet service in the mountains.
Claudia and I left them with this empty bed, ready for a different crop, though some of those roots will probably still put out new growth.
I am planning to sort through the roots and put most of them, especially the younger ones, into a raised bed here at Nature's Cauldron Farm.  Madder has a tendency to crawl and even become invasive, so I would prefer them to be contained.  The plants are somewhat 'weedy-looking' and would never be chosen for a best-looking award, so the raised bed will probably be in a separate, 'outback' part of the property.  They will need to get established in their new location, and the general rule of thumb is to harvest an area only once every three years!  I will have to partition the bed into three sections, and just take some from each one annually, in order to keep the rest thriving.
I am saving some of the roots for dye experiments, with yarn promised to Jan in thanks for the roots and Claudia in thanks for her labors!