Shameless Promotion: A Contest!
I am happy to say that the 2012 CSA season is already half filled!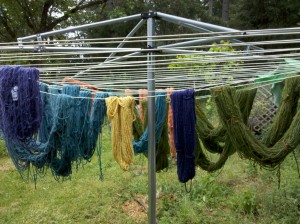 Thanks to the Fibershed Project, for letting me join in the fun. I am listed on their marketplace this year (as well as with Local Harvest), and Dustin is handling all the processing for me. My small percentage contributed is helping further the goal of having local clothing, right here in Northern California… a win-win situation. If you haven't seen their site, take a look… they just finished a lovely spring photo shoot!
Since I am a glass-full type, you will notice I wrote 'already half filled' above. However, over the years I have been learning to be a businesswoman, so that little voice reminded me that I could also be looking at the situation as 'You are only half full'. I decided it would be fun and right to do some promoting of natural dyes by having a contest, which will run until midnight Pacific Daylight Time on April 30th.
First the prizes, then the rules!
Grand Prize: An indigo-dyed pair of socks, made on my antique circular sock knitting machine (CSM) from Canadian wool. Why not local, you ask? The region is still working on re-tooling itself, and there is no mill that can spin a fine enough yarn to work with these fussy antique machines.
I have three cones of white wool, which are getting skeined up and thrown into an
Indigo tinctiforia
dyebath, then knitted up on the machine. Below is a photo of several pair of such socks made in January. I will be making the socks for the winner, to assure they are the right size.
2nd Prize: One skein of my own Nature's Cauldron pokeberry-dyed yarn.
This is 200 yards of DK/sport weight yarn from
Yolo Wool Mill
, dyed last fall. Some of the most intense fuschia pink you will ever find!
3rd Prize: Your own copy of Harvesting Color, by Rebecca Burgess… just out last spring and one of the most user-friendly dye manuals around.
Now, for the rules:
You get one entry for commenting, either here or on my Facebook page.
You get another entry each time you post about the contest, although Twitter doesn't count, because I am not going to wade through there… so if you blog, or post on FB or Ravelry or Google+, let me know and I will follow up and give you another entry into the contest for each.
You also get yet another entry for each person who enters telling me "I heard about the contest from….".
Last rule – contest ends at midnight PDT on April 30th!
So, lots of ways to get multiple chances to win, and more prizes will be added when I reach 100 entries, as well as each time I get a new CSA sign-up during the contest. Good luck!