Dyers in Action
I was able to attend a special dye day with the Foothill Weavers, a group that works together to share the Navajo-style weaving traditions.  We met at Anni's in Greenwood, south of Auburn, where she has the most marvelous of outdoor kitchens cum dye workstations.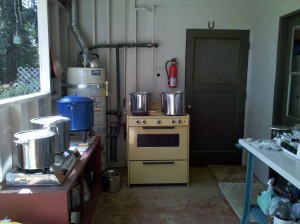 You can see from this photo that she has four burners on the gold stove, three more on smaller gas stoves to the left, and out of the photo, two more burners at another workstation!
Anni had prepped some of the materials we were going to use in advance, and while we were waiting for kettles to get up to temperature for those needed to mordant their wool, some set up spinning wheels while others set up their looms.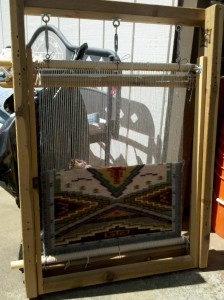 My weaving teacher, Marilyn is working on this complex and subtly colored piece, and brought along lots of wools for dyeing for future weaving projects.  She always refers to the classes that she and Mel Silva teach together as "Navajo-style" out of respect for their native teachers and the fact that they themselves, while working to preserve the tradition, are not actually Dine.  You can view more of her amazing work here.
The morning passed quickly, and we were soon eating lunch while enjoying this beautiful view.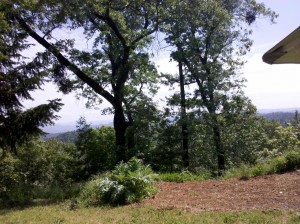 Kettles have a way of all coming up to temperature at the same time! The logwood one was ready first; the first yarns in it came out a very deep blue-purple, while the second round came out a deep lavender.
The third time yarn went into the logwood kettle, it was actually unspun mohair locks, which came out a beautiful, pale lavender!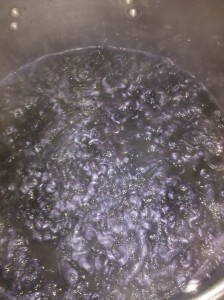 The madder kettle was also ready. Anni had chopped the roots the day before, and thought from the looks of them that they were 'young', showing more orange-y red than the deepest of reds the older roots develop. Consequently, the dyes we achieved from the madder kettle were first a deep orange, followed by a milder pumpkin color as the bath became exhausted.
This photo shows the first skein in the madder bath, which achieved the darkest color.
I also dyed four skeins of kid mohair laceweight for a project, using the partially-exhausted dye bath to get the pale pumpkin color I was hoping for… a later photo will show those skeins drying on Anni's clothesline.
Karla had brought along a pomegranate, which was summarily chopped up and tossed into a pot; I was one of only a few to try this pot out, but was quite happy with the 'old gold' color I got. Reminds me of my parent's 1970s living room! There was also a pot of Scotch Broom simmering, but the results didn't appeal to us… another pale yellow. I do intend to try out Rebecca Burgess' recipe, using iron modifier, as this is an invasive foothill plant and widely available.
Anni demonstrated two different ways to set up an indigo vat; one was a quick immersion method, and the other, the Saxon vat, was a dip and dye method that allowed color to develop and deepen with repeated dips. Barbara Sue had brought along about 1600 yards of Donegal tweed yarn she had ordered from Ireland, only to discover upon its arrival that the color was a mustard-gold she doesn't wear well, so after some strand tests to see what worked best, this yarn went into the quick immersion indigo vat, coming out a beautiful mossy green.
Karla also used this vat to overdye a similar large quantity of a beige possum-merino handspun yarn, getting a lovely turquoise.
The Saxon indigo vat worked in a different way; we needed to be careful sliding in wet yarn in order to avoid introducing air into the pot, and when we fished out a skein to check its progress, it was magical watching the yarn change colors from pale green to bright blue.
I lost track, but I think we dyed over five pounds of yarns, and had a wonderful, happy, fiber-filled day together!